Home » Posts tagged 'food USA'
Tag Archives:
food USA
The United States is home to many great things; there are some world renowned tourist spots like the Niagara Falls, the Statue of Liberty in New York, the Grand Canyon National Park, and so many more. But there are also plenty of places that may be considered as best food-travel destination of USA. These kinds of places are best for the foodie-travelers that are in search for towns and cities with rich culinary tradition and locals that are adventurous when it comes to food.
1.Los Angeles, California
With the glitz and glamour of tinsel town, LA is home to the best food scene in the US. The warm weather and the local produce are considered to be top-quality. Along with the diverse culture and cuisine that intertwine, LA is the center of the culinary universe in the US. Some of the top chefs opened their own restaurant almost every month in LA, one of the factors for this is the Hollywood A-listers who are always looking for something new and the expectation is very high. Making sure that these celebrities are well-fed and the positive reviews and celebrity recommendations will keep pouring in.
2.New York
The Big Apple comes in second in our list, it has top-chefs with their Michelin-starred restaurants, much like what can be seen in LA. It has almost every type of food that you can imagine. New York is also home to traditional comfort foods from countries that have a deep influence on the food scene, and these are all represented in this city.
3.Chicago, Illinois
This city in the Mid-West has a culinary tradition that is on the verge of competing with LA and New York with a lot of fine dining restaurants that have boomed in the windy city. Chicago is known for its deep love for burgers, beers, and deep-dish pizza. They also have pies which are standing out from the rest.
4.Seattle, Washington
As we all know, Seattle is best-known for their coffee, but we almost forgot that this city is also known for their beers, donuts, and cafes. They also take pride in their well-known pastries that most tourists come back every now and then. With the opening of outposts for tech giants like Google, Facebook, and Amazon, it's sure to improve the food scene in Seattle. They also have restaurants that specialize in pasta and other Italian dishes.
5.New Orleans, Lousiana
This city is home to some of the best seafood cuisine in the US, it also produces food that is heavily influenced by Creole and Cajun cooking. The Big Easy is famous for its briny oysters which you can just suck down or even check out their world-renowned fried chicken. Never forget that during Mardi gras, the drinks keep on pouring in with all the party that never seems to end.
These cities that are famous for their food scene are notably the most visited places with a wide array of food choices those food that is deep-rooted in their long tradition when it comes to food. Most tourist and food-traveler usually go to these best food-travel destinations in the USA to experience and literally have a taste of their best food that is known worldwide.
These delicious dishes are synonymous to being and living the American Way. Attempting to define traditional American food can be a tough ask. The USA is also known as The Melting Pot signifying the blend of multiple cultures and traditions thriving together to build a better world. As a beautiful by-product, America is blessed with a plethora of delicious recipes and dishes that have become an identity of the country in many ways.
Must-try American dishes:
If you are traveling in the USA with your friends, family, or even on your own, make sure that you try these dishes. You'll find various food joints and restaurants that will serve you best of the American dishes. You may even hire a ride from 24h.com (car rental), and plan a Food-a-thon driving from place to place to taste the different delicacies the country has to offer.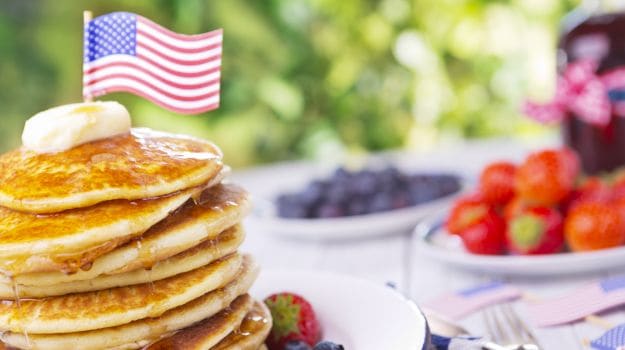 Let's take a look at the top 5 dishes that you must try while staying or traveling in America.
This dessert has become so iconic over the years that there's a saying which equates it to being American – "as American as apple pie." Who would've thought that a simple combination of sugar, tart sliced apples, and a buttery pastry would produce a dish so majestic that it becomes a matter of national pride. Some people even dedicate their entire lives trying to achieve perfection with this recipe, and you'll find many such souls running restaurants with sole intention of pleasing your taste-buds. If you are in New Mexico, get a car on 24h.com (car rental) and drive down to Pie city. Try the special apple pie sprinkled with green chilies at Pie-o-Neer that is run by Kathy Knapp, "the Pie Lady of Pie Town."
2 The Hamburger
Every American has an opinion on hamburgers. It might seem like the hamburger is the national dish of the USA. It is part of every menu, from the streets on the West Coast, like 'In-and-Out Burger,' to the fine dining options in New York, like 'The Spotted Pig.' However, only New Haven from Connecticut is recognized as the pioneer of hamburgers by the Library of Congress.
Chicago has made pizza its own and foodies all over the world can't help but admire the creative genius of Chico-style pizzas. It looks and tastes different than any other pizza in the world. The pizza dish is deep giving it a higher crust and ample space to stuff in unbelievable amounts of cheese, sauce, and meat. It is also called the pie, which would actually be a spot-on description.
4 Texas Barbecue
The amount of dedication that Texans put in creating lip-smacking and soul-fulfilling barbecues is commendable. They are undisputed champions in tenderizing ribs and Mesquite meats. If you are in the beef state, just visit Dallas Farmers Market. Wait in the line until you get a spot at Pecan Lodge and enjoy their exquisite brisket.
5 Clam Chowder
You simply cannot pass by Boston without tasting the New England Clam chowder. This soup may look suspiciously ugly if you've never tried it before, given its clumpy texture. But you'll be seduced by its fragrance alone and you're bound to fall in love at first taste. The person who figured mixing shellfish with tender potatoes, heavy cream, salted pork, and lots of herbs, deserves a lifetime achievement award. Head to Atlantic Fish Co. and order yourself a bread bowl. It is served to you by the chefs after they carve out a boule bread and pour in the majestic chowder before covering it up with the bread again.
Closing thoughts:
If we have made your belly rumble and your mouth water, we are proud of the achievement. Food is the best storyteller of the people and the culture of the place where it is served. So never say no to the experience of tasting different iconic dishes from around the world. Simply hire a car from 24h.com (car rental) and go on the Food-a-thon that you deserve to enjoy.